Thread for political discussion.
_________________
_________________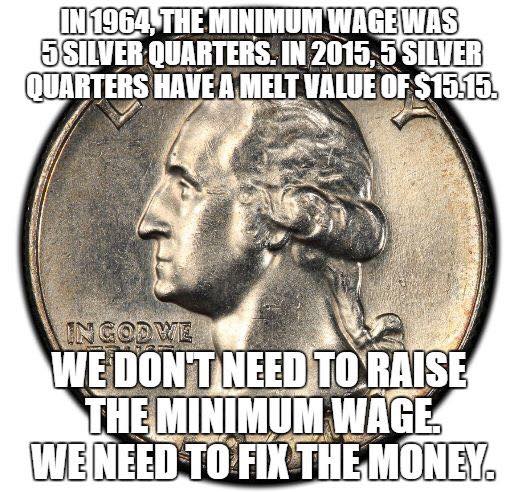 The problem is not a lack of money, theres plenty of money.  Its the lack of production that is the problem. Money is just a medium of exchange, not the needed goods. If i need a new blouse and you give me $30... OK, so now i have $30, but i still need a new blouse. If no one is manufacturing blouses, i could be a millionaire but still in need of a blouse.
Since no one nearby is manufacturing blouses, any available blouse shall be marked up reflecting its scarcity. So with $30, i need more money to purchase that blouse. Minimum wage is raised in an effort to accommodate my lack of money, but since the currency pool has increased, the value of it has decreased causing the blouse manufacturer to increase prices.
Round and round we go until it takes a barrel-full of cash simply to buy a blouse. In the Weimar Republic of Germany, it was cheaper to burn stacks of cash for warmth than to actually use it for its intended purposes to
buy
firewood. Money is not wealth... production is wealth.
Minimum wage really is a moot point. Minimum wage is
compulsory unemployment
. It is a law that says: it is illegal, and therefore criminal, for anyone to hire anyone else below the level of X dollars an hour. This means, plainly and simply, that a large number of free and voluntary wage contracts are now outlawed and hence that there will be a large amount of unemployment.
In a free market, if i trade $30 for a blouse, i benefit because i value the blouse more than the money, and the seller benefits because they value the money more than the blouse. If i trade $90 for a candy bar, i do not benefit because i value the $90 far more than a mere candy bar, and the seller shall not benefit since they value the candy bar more than a reasonable amount of money. They would soon go out of business and someone else would sell a candy bar for much less, thus ensuring themselves a profit by selling much more volume. This is why an unfettered free market is able to ensure maximum utility and efficiency.
We live in a society where trade is heavily regulated and voluntary transactions are hindered. Because such intrusions into the market exist, productivity is stifled. As a result, opportunities are also squandered, and people are not allowed to naturally flourish without being threatened with violence by the State under the colour of law.
The more the State interferes in a persons life, the more their opportunities to provide for themselves and their loved ones disappear. Regardless of the fact that their opportunities will take a nosedive, the principles of economics shall still remain constant. People shall still maintain a self-interest and seek to gain maximum utility.
The city of Chicago, where crime runs high and "government" intervenes in nearly every aspect of life, increased the citys minimum wage to $10 an hour last year. As basic economics shows us, increasing the minimum wage creates unemployment.
Chicago consequently has a staggering 91% unemployment rate among black youths. By outlawing free and voluntary interactions below a certain pay wage, these youthies now have their opportunities greatly limited. The market for baseline jobs that require little to no skill are now that much harder to attain, since the State does not permit these people to volunteer their labour for anything less than the
mandated
wage.
The important thing to remember here is that a minimum wage law does
not
provide jobs; it only outlaws them; and outlawed jobs are the inevitable result.
There are many other market intrusions that raise costs exponentially for business owners, such as permits, licenses, utilities, and property taxes. For each of these factors, the same principles apply. The more "government" intrudes into the economy, the more free and voluntary interactions become either directly or indirectly outlawed, leading to a greater number of unemployed people facing these tradeoffs. Unemployed people means less customers of goods and services, thus prices are raised to offset inflation.
Inflation is caused by the "governments" continual creation of new currency, amounting to a system of legalized counterfeiting. Inflation gives benefit only to big business, "government" and banks. Wealth is transferred from one group to another. It goes from the middle class and the poor to the "government", the bankers, and the large corporations.
Real money represents goods and services... if you start getting more money than goods and services, the price of everything goes up.... inflation. Whenever "governments" take over currency, you will always get inflation, because "governments" print money and give it to their friends, which they can use to buy things at the old prices; the inflation grows and spreads later, and further away. It is the most destructive form of taxation, since it benefits the rich and politically connected at the expense of the poor and the powerless.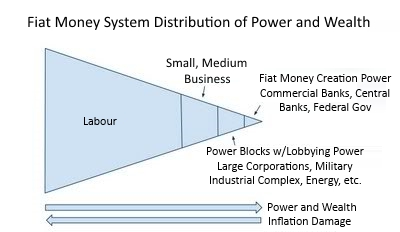 The banks and "government" benefit the most by having the ability to create money and control interest rates. With first access to new money, those nearest to the source of creation are affected the least by inflation, while those on the other end lose the most purchasing power because by the time they get it, market prices have already been adjusted to account for the new money in circulation. Wages are always the last thing to be adjusted.
The rise of banking during the Industrial Revolution created financial institutions able to give "governments" power to raise money beyond immediate taxation. This allowed "governments" to pursue policies independent of their citizens preferences, since citizens did not immediately pay for "government" spending. People will usually vote for stuff that
seems
free.
Printed out of nothing and loaned at interest to the government which the government externalizes to the citizens. Debt shall
always
surpass the currency supply. That is the complete opposite of prosperity.
Self-preservation shall look for incentives for a body to provide for themselves, and as a result, many will turn to street crime for quick cash. Chicagos strict gun-
control
"laws" also raise the incentive to commit violent crime (the murder rate of Chicago is four times greater than the national average), since criminals can count on their subjects being disarmed. While they likely recognize that such acts are immoral, the marginal benefit gained from committing street crimes far exceed the marginal cost of labouriously searching for a non-existent job. Because they are left with little to no alternatives to provide for themselves, they resort to either black market activities or violent crime as a means of accomplishing this.
The theory that people commit crime because of their culture does not hold up to honest scrutiny and wholly ignores the underlying problem that created a culture of violence to begin with. The root of the issue will always stem back to the fact that people had their opportunities squandered and were left with no other alternatives. When one commits crime to put food on the table, it is often not because they find pleasure in such activities but because their opportunities have been squandered and they must fend for their own survival.
They believe that if only the state would steal more wealth from people, they would be able to redistribute more funds to failing public schools to better educate the youth. However this will have two adverse consequences. The first consequence would be that businesses would have to layoff employees in order to accommodate the rising cost of taxation, which will then force the newly unemployed folks to face the same trade-offs as the Chicago teenagers committing crime.
The police work for the State. Do not confuse society with the State. They are quite different; the State does not build society, people do, and of their own initiative. The State interferes, by coercing people on their own land, and extorting them. Society and "government" cannot be merged; one is voluntary, the other force.
Thomas Paine wrote:Some writers have so confounded society with government, as to leave little or no distinction between them; whereas they are not only different, but have different origins. Society is produced by our wants, and government by wickedness; the former promotes our happiness positively by uniting our affections, the latter negatively by restraining our vices. The one encourages intercourse, the other creates distinctions. The first is a patron, the last a punisher.
What is society but the totality of human social relationships? The State actively disrupts and destroys human social relationships, thus the State proves itself to be the very opposite of society. The State is a corporation and a criminal organization that uses violence, fear and intimidation to force their whims (which they try to call "laws") on an uneducated society under the illusion of protection. Society and the State are in opposition to one another. If the State flourishes then society will collapse and vice versa.
Last edited by SqueakyLass on Wed Mar 08, 2017 10:17 pm; edited 2 times in total



Posts

: 3


Join date

: 2017-03-03


Age

: 38


Location

: The "Whats-in-it-for-me" State, Land of lawyers and insurance agents



Gun
-
control
advocates insist that we should turn in our guns and rely on the police to protect us from crime. No one needs guns because we have police
(...much like we dont need fire extinguishers because we have firemen)
. Yet, the courts continue to rule that the police are under
no obligation
to protect the public...
City says cops had no duty to protect subway hero who subdued killer *
The police have "no affirmative duty" to protect us *
Warren v. District of Columbia *
Davidson v. City of Westminster *
Hartzler v. City of San Jose *
Linda Riss v. City of New York *
DeShaney v. Winnebago County *
Susman v. City of Los Angeles *
Bowers v DeVito, 686 F.2d 616 (7th Cir. 1982) (no federal constitutional requirement that police provide protection)
Calogrides v Mobile, 475 So. 2d 560 (Ala. 1985); Cal Govt. Code 845 (no liability for failure to provide police protection)
Calogrides v Mobile, 846 (no liability for failure to arrest or to retain arrested person in custody)
Stone v State 106 Cal.App.3d 924, 165 Cal Rep. 339 (1980) (no liability for failure to provide police protection)
Morgan v District of Columbia, 468 A.2d 1306 (D.C.App. 1983) (no liability for failure to provide police protection)
Sapp v Tallahassee, 348 So.2d 363 (Fla. App. 1st Dist.), cert. denied 354 So.2d 985 (Fla. 1977); Ill. Rec. Stat. 4-102 (no liability for failure to provide police protection)
Keane v Chicago, 98 Ill. App.2d 460, 240 N.E.2d 321 (1st Dist. 1968) (no liability for failure to provide police protection)
Jamison v Chicago, 48 Ill. App. 3d 567 (1st Dist. 1977) (no liability for failure to provide police protection)
Simpsons Food Fair v Evansville, 272 N.E.2d 871 (Ind. App.) (no liability for failure to provide police protection)
Silver v Minneapolis, 170 N.W.2d 206 (Minn. 1969) (no liability for failure to provide police protection)
Wuetrich V Delia, 155 N.J. Super. 324, 326, 382, A.2d 929, 930 cert. denied 77 N.J. 486, 391 A.2d 500 (1978) (no liability for failure to provide police protection)
Chapman v Philadelphia, 290 Pa. Super. 281, 434 A.2d 753 (Penn. 1981) (no liability for failure to provide police protection)
Morris v Musser, 84 Pa. Cmwth. 170, 478 A.2d 937 (1984) (no liability for failure to provide police protection)
---------------------------------------------------------------------------------------------------------
*
i am not yet permitted to post operable links here as per forum rules.
New members are not allowed to post external links or emails for 7 days. Please contact the forum administrator for more information.



Posts

: 3


Join date

: 2017-03-03


Age

: 38


Location

: The "Whats-in-it-for-me" State, Land of lawyers and insurance agents



@SqueakyLass I'm sorry, I changed that setting.
_________________
Admin wrote:@SqueakyLass I'm sorry, I changed that setting.
Nope... still doesnae work




Posts

: 3


Join date

: 2017-03-03


Age

: 38


Location

: The "Whats-in-it-for-me" State, Land of lawyers and insurance agents



SqueakyLass wrote:

Admin wrote:@SqueakyLass I'm sorry, I changed that setting.

Nope... still doesnae work
I don't what I was doing, but I think I clicked the right button now. If it still does not work, I'll have another admin look at it.
_________________

---
Permissions in this forum:
You
cannot
reply to topics in this forum